Dufftown 18 Year Old 1995 – Old Particular (48.4%, Douglas Laing, Refill HH #9962, 197 bottles, 2013)
48.4% ABV, ~£60 launching December 2013
Score: 90/100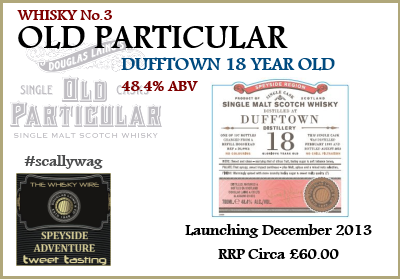 What they say:
The Dufftown 18 Years Old from the Old Particular range is due to be launched December 2013.
What I say:
Blind dram #3 at the #scallywag twitter tasting event.
Colour:
Pale gold
Nose:
spirity & strong/alcoholic, spearmint, lemon, barley sugars, delicate vanilla and coconut, yeasty banana bread, ginger and gooseberry
Taste:
Super-smooth, mango, papaya, pineapple, oranges, peaches, fruit etc.
Finish:
fruity, well rounded and very drinkable
Would I buy it:
Of all the whiskies I tried as part of the Douglas Laing #scallywag twitter tasting this is the one I would most likely buy! I had rapidly gotten through a bottle of the Diageo standard Singleton of Dufftown many moons ago and was very fond of it. I have since read reviews suggesting it was rather bland, however I felt it was more of a back to basics whisky that had plenty of cereal malt barley and yeast flavours and moderate amounts of bourbon finish elements which made a hugely drinkable dram. With a little more age more of the fruitiness comes through in the Old Particular 18 Years Old bottling which just adds depth and character. To me this is 18 years of Speyside malt perfection!
Thanks to Douglas Laing & Co Ltd. & The Whisky Wire for sample